Originaltitel:
Wall.E / WALLE / WALL·E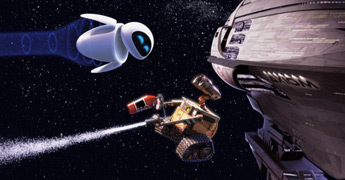 Fler foton
Se trailer
Genre:
Animerad / Familje
Regi:
Andrew Stanton
Manus:
Andrew Stanton, Pete Docter
Skådespelare:
Amerikanska röster:
Fred Willard ("Shelby Forthright") Jeff Garlin ("Captain")
Ben Burtt
Biopremiär
: 2008-09-05
Längd
? min
IMDb
What if mankind had to leave Earth and somebody forgot to turn the last robot off?
After hundreds of lonely years of doing what he was built for – cleaning up the planet — WALL•E (short for Waste Allocation Load Lifter Earth-Class) discovers a new purpose in life (besides collecting knick-knacks) when he encounters a sleek search robot named EVE.
WALL•E and EVE travel across the galaxy and set into motion one of the most exciting and imaginative comedy adventures ever brought to the big screen.

Joining WALL•E on his fantastic journey across a universe of never-before-imagined visions of the future is a hilarious cast of characters including a pet cockroach and a heroic team of malfunctioning misfit robots.




Senast uppdaterad Aug 5, 2009. 7827